Rick Jacobson directed 2 of my scripts, and he's one of... I guess it's *two*... directors I enjoyed working with. A couple of months ago I posted a car chase clip from BLACK THUNDER, and that was his work. He is a nice guy (kind of amazing on its own) who can take a low budget film and make the action scenes rock. Most of the other directors I've worked with just wanted to get the action scenes over with. They disliked them, didn't understand them, and the results are some really crappy and bland action scenes. Rick *cared* about the action scenes, and tried to make them the biggest scenes possible with the money they gave him. There is a massive action scene at the end of BLACK THUNDER that is filled with explosions and stunts shot for the movie (ie: not stock footage). He put the money on the screen, not in his pockets.
Well, Rick has a new film opening in cinemas on Friday - select cities, limited release - called BITCH SLAP! It seems to be a Russ Meyers homage of some sort. You may have seen one (or more) of the female leads interviewed on some of the off the beaten path cable talk shows - I saw them on some video game talk show a couple of weeks ago. I'll be seeing the film this weekend in San Francisco before heading back to Los Angeles. Here is the trailer...
That looks cool!
- Bill
IMPORTANT UPDATE:
TODAY'S SCRIPT TIP:
Gag Reel - how to use "gags" and details to add depth and texture to your scenes, using THE 39 STEPS as example.
Yesterday's Dinner:
Salad at La Scala in Walnut Creek, CA.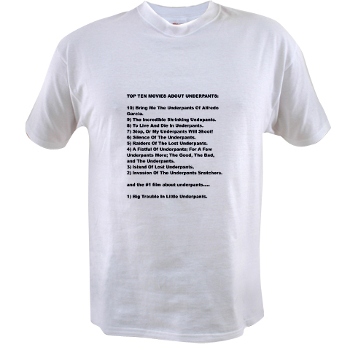 SCRIPT SECRETS STORE
Top 10 Films About Underpants T Shirt: SALE $9.99