The new issue of Script Magazine is out now! It's the Awards Issue - all about the Oscar hopefuls and other best pictures!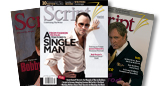 Writers on Writing: A Single Man
Thankfully, each awards season brings a fresh voice, full of surprises for a familial industry. In 2009, that fresh voice belonged to someone already well-known to the family, though no one could have suspected his fashion savvy would translate so readily to screenwriting. Here Tom Ford talks about what drew him to the singular A Single Man.
Win, Place & Showbiz: Handicapping the Writing Awards for 2009
An Oscar®-season tradition, Bob Verini talks to the scribes in the running for the Academy's coveted statue. But, with a dramatic change in the Best Picture category -- the noms have been increased from five to 10 -- the race for the golden guy is truly up in the air. As usual, Verini lays the odds on 2009's writerly offerings.
Taking on Tyson
For the past decade, filmmaker James Toback has held the idea of a special project, a story so personal to him that it had to be done just right, his way, when ready. The long-awaited result? The critically acclaimed Tyson -- a revealing documentary of the polarizing and enigmatic figure that is Mike Tyson.
Script to Screen: The Road
Stage veteran Joe Penhall toned down some of the gore in Cormac McCarthy's post-apocalyptic novel The Road -- but only to keep it from getting boring. As director John Hillcoat and Penhall explain, their vision for the film was often debated but never questioned ... and both are eager to hear reaction from the audience and avid McCarthy fans.
Block Blocking
It happens to us all -- from the Oscar-winning writer to the aspirant. Writer's block is a cruel reality, but one that can be managed, according to the likes of Eric Roth, Simon Kinberg, and Stephen Susco. See if some of their tips, or the tips from some Script readers, will work for you.
Brothers: Where Art Thou?
Screenwriter David Benioff made two vows: He'd never do a remake and, after The Kite Runner, wouldn't revisit the subject of Afghanistan. He talks to Script about his new film Brothers, a remake of a Danish film about the war in Afghanistan.
The Agony of the Unproduced
Plenty of people make a living as screenwriters, but an important variable -- the screen variable -- can leave even those with a steady stream of writing gigs feeling less-than-accomplished. Read how a few writers have overcome the unproduced feeling.
Small Screen: Leverage
Showrunner John Rogers began his career on Cosby, a warm family sitcom that revolves around aging spouses. His current show centers on a family of a different sort -- a family of thieves. Find out how Rogers and his staff involve fans in the stories for Leverage's merry band.
New Media: Web Innovators
For most Web innovators, new-media projects have been high on experimentation and low on measurable results. But for BarretSwatek and Taryn Southern, the Internet has been a very stable place where both have found homes for their existing talents, and discovered talents they never knew they had.
Independents: Awards Driven
What can we learn from the winners of film festivals? Perhaps what drives each lauded story from Fade In to The End; or how each film's engine differs from the others in competition? Bill Martell attends the 17th Annual Raindance Film Festival in London to find out.
10 Things a Rep Will Never Tell You
Do you really want to know? Are you sure? Because Jim Cirile, and a host of reps, are ready to tell you why neediness isn't endearing, there's no market for your masterpiece, if a script hasn't sold yet it likely never will, and seven other daunting truths.
So, what subjects would you like me to cover in the new year? I'm about to start my article for the May issue, and have no idea what it will be about.
- Bill
IMPORTANT UPDATE:
TODAY'S SCRIPT TIP:
What's The Plan, Man? - and planning your 2010 writing to get things done!
Yesterday's Dinner:
Pizza. Frozen. Cardboard.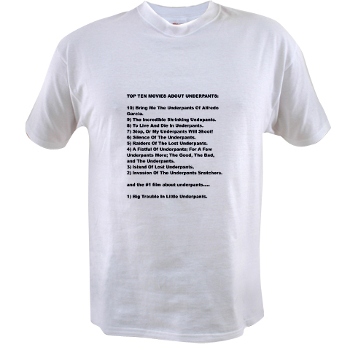 SCRIPT SECRETS STORE
Top 10 Films About Underpants T Shirt: SALE $9.99