Wednesday, November 16, 2016
(originally posted eight years ago)

Many pre-pro writers send out their scripts to agents or managers or producers and (usually as a result of hammering away for a response) get a nice rejection note saying that their masterpiece is "Well written, but not right for us", or they "Loved it, but we have something similar in development", or some other exciting and positive thing about how much they loved your screenplay. They celebrate how close they came to selling their script and brag to all of their friends that they are almost over that big wall that surrounds Hollywood. Everyone loved their script! They are great writers!

When I was living in my home town dreaming of Hollywood I had a chance to give a copy of one of my scripts to my idol at the time, Paul Schrader. He wrote TAXI DRIVER and OBSESSION and CLOSE ENCOUNTERS and THE YAKUZA and ROLLING THUNDER and OLD BOYFRIENDS and other films I loved... and he took a copy of my script and read it (or had someone read it) and sent me a great letter of encouragement. I sent the same script to my favorite director, Martin Scorsese, and he had someone read it, and they sent me this great letter of encouragement on Columbia Pictures stationery! My script was the greatest script on the world!

Of course, when I read that script today I cringe at how awful it is and am embarrassed that people I admired had to read it - or get their assistants to read it. That script just sucked.

Pauline Kael once said, "Hollywood's the only town where you can die of encouragement."

No one will ever tell you that your script sucks. The reason why is simple - they read your current script, which sucks, but what if you keep working hard at this screenwriting thing and improve and a few years later you write a great script. One of those scripts that everyone in Hollywood is fighting with each other over. There are bidding wars - and the winner not only gets to pay you a huge amount of money, they get that amazing script you have written. But if Joe's Productions tells you that your earlier script sucks, they won't be part of that bidding war. You will not take your script there. What Joe's Productions wants is for you to be the *first* place you go with that great new script - so that they can maybe buy it before there is a bidding war... or at least be the friendly producer that you want to sell the script to. So, instead of saying "Your script sucks" they come up with a euphemism like "Loved it, but we have something similar in development."

That really means your script sucks.

Here's how to tell if they *really* loved it:

1) They buy it or option it (for real money).
2) They want to meet with you to discuss other projects.
3) They offer you a writing assignment.
4) They *request* your next script or ask to read other scripts you have written.

I have a script tip on this floating around on my website, but you should even beware of producers who want to option your script for $1 or no money. Basically, you get what they pay for. If they have a dollar invested, that is what your script is worth to them, and tells you how hard they will work to bring it to the screen. In that tip, I talk about a producer I know of who literally options every script he can get his hands on for $1 and never reads any of them. He is a "material pack rat" and his theory is that if he options 100 scripts for $1 (sight unseen) one of them has to either be good enough to set up somewhere or has some strange elements that some real producer may be looking for. This guy has you write down "keywords" about your script, then takes your script to a warehouse where it will be forgotten like the Lost Ark, and if any real producer is looking for a script with the keywords for your script - this guy tries to set up a deal. If you've read any of those strange script requirements in InkTip listings, you know how oddly specific some producer's needs are. And this guy has a warehouse full of scripts he *owns*, and one may fit those strange needs. If not, he's only out $1. The thing about options - if they pay you $1, that's what they think your script is worth, and most likely it's not a real option. Sure, sometimes there are underfunded legit producers looking to have control over a script when they take it into a studio... but usually the $1 option isn't much different than no option at all. And how much can you celebrate when all you have is $1?

If they read your script and did have something just like it in development, but thought the writing was great, they will ask to read something else or want to meet with you. If they actively pursue you, you have something they want (writing). If they say nice things but don't *do anything*, they don't think the writing is strong enough to follow up on.

Just like in a screenplay, in real life - actions speak louder than words.

Producers will tell you all kinds of nice things, but what they *do* tells you want they really think. If they do nothing, well...

Now, that doesn't necessarily mean your script *completely sucks*, but it's just not there yet. Keep working at it, and eventually they *will* do something. They won't just say, "We loved it but it's not for us", they will want to meet with you to discuss anything you may have that *may be* for them. Because producers need screenplays and they need screenwriters. Can't make a movie without a script.

No matter how many great things they say about your script, look at what they *do* - that will tell you what they really think. And if they don't do anything, all is not lost! You just need to keep writing until you get that script where they actually do something... not just tell you how much they loved it.

- Bill
Monday, November 14, 2016
Lancelot Link Monday! We've had both Presidential Eleections and Veteran's Day in the same week! How patriotic can you get? Also, maybe due to one or the other, a record weekend at the box office! While you're thinking about that, here are this week's links to some great screenwriting and film articles, plus some fun stuff that may be of interest to you. Brought to you by that suave and sophisticated secret agent...
Here are a dozen links plus this week's car chase...
1) Weekend Box Office Estimates:
1
Strange ........................ $43,032,000
2
Trolls.......................... $35,050,000
3
Arrival......................... $24,000,000
4
Almost Christmas................ $15,564,000
5
Hacksaw......................... $10,775,000
6
Accountant....................... $4,570,000
7
Shut In.......................... $3,700,000
8
Boo ............................. $3,550,000
9
Reacher.......................... $3,325,000
10
Inferno.......................... $3,250,000
2)
Why SUICIDE SQUAD Died...
3)
SHUT IN Writer Sets Up New Deal.
4)
Shane Black On Writing PREDATOR.
5)
BEN HUR Remake Is Major Flop!
6)
Eric Heisserer On Writing Arrival.
7)
5 Reasons Why ARRIVAL Scored.
8)
GHOST IN THE SHELL Trailer.
9)
More Suspects On ORIENT EXPRESS.
10)
Someone Who Has No Idea WESTWORLD Was A Movie First, And Written By The Same Guy As JURASSIC PARK...
11)
The Greatest Living Film Editor... Anne V. Coates.
12)
Every British Swear Word In Order Of Nastyness!
And the Car Chase Of The Week:
Presidential Car Chase???
Bill
IMPORTANT UPDATE:
-
Dinner:
Pages:
Bicycle:
Movie:
Wednesday, November 09, 2016
Now that the elections are over, From 2009...

When I was a little kid, my mother would always get compliments from other people on how well behaved my brother and sister and I were. When we were in public we never raised our voices, let alone ran around and roughhoused. We stood in a straight line. We didn't touch things that were not ours. We might fight like cats and dogs at home, but in public we never pushed each other or hit each other or even raised our voices. My parents raised us well and lead by example. We did unto others as we would have them do unto us. None of this had anything to do with religion or threats of being whipped with a belt - it was just good behavior. When we were out in public, we had a code of conduct to follow.

Back then I believe most kids had a code of conduct to follow when they were out in public. I know our friends the Holloway kids did... though I don't remember them standing in a straight line - that may have just been something my mom came up with. Though some kids were little hellions, most behaved when in public. That's what was expected of kids at the time. We always said "please" and "thank you" and "excuse me" and "may I be excused" when we had finished dinner. We had to ask permission before doing anything unusual - and if all of this sounds like we were some sort of Stepford Kids, nothing could be farther from the truth. We built forts and dug fox holes to play army and often played in the forbidden creek behind the house if mom was busy doing something and we didn't think we'd get caught. We were normal kids, who had some manners and did unto others.

The mind set of doing unto others and considering other people has stuck with me into adulthood. So has saying "please" and "thank you". When I'm working in a coffee shop and they put my drink on the counter, I always say "thank you" even if I am across the room plugging in the laptop. It's only polite. And this got me thinking about all of the things that I do that are traces of those childhood lessons in being polite.

1) I always say "please" and "thank you" and "you're welcome".

2) I always try to have a genuine smile for people. I hate those plastered on fake smiles, and I have been guilty of wearing them every now and then. When I smile at people, 99% of the time I mean it. I also try to be positive - and trust people and be nice to people as my default. I know people who start out suspicious and angry, I don't want to be one of those people.

3) I clean up after myself - I always try to leave things where and as I found them. If I am in the grocery store and decide not to buy something in my cart, I take it back to the shelf where I found it and even face it and make it look pretty - because that's probably what it looked like when I grabbed it. If it didn't look like that? I'm leaving the world in better shape than I found it. That's the goal whether it's a grocery store or an interaction with a stranger.

4) When I'm at a stop light, I always look *both* ways before turning right or pulling out. I also look both ways before crossing a street - or doing just about anything. Always good to know what's around you - instead of not caring.

5) Probably because I'm often on a bicycle, I stop my car behind the limit line, not in the middle of the cross walk. You know, that extra foot doesn't get me there any faster. When I'm driving, I go with the flow of traffic - rather than race to the next stop light. Oddly, I get there the same time as the car that races through traffic.

6) When squeezing past someone or crossing in front of their sight line or any number of other things, I say either "excuse me" or "pardon me". Since many people in Los Angeles speak Spanish as their primary language, I usually say "pardon me" because I think it is easier for everyone to understand. I don't say "pardon me" for me, I say it to be polite to others.

7) I park within the lines, and as straight as possible. This means it may take me an extra minute to position my car - but that makes it easier for people parked on either side to open their doors and pull their cars out of their parking spot.

8) When I am paying at a cash register, I make sure my money is faced when I hand it to the clerk. When I worked retail I had to face my money at the end of the day, so I know what a pain it is to get a wad of messy money. It takes a second to put all of the bills face up and rightside up before handing it to the clerk.

9) I look before moving. If I'm going to take a step to the side or a step back, I look at the spot where I'm moving to *before* moving so that I don't step on anyone. Saves me from having someone else's coffee on my clothes.

10) I am patient. Okay, not always - never at the post office - but I try to be patient most of the time. Whether I'm in a rush or not will not change how fast things happen or how fast other people move. Better to just take it easy.

11) By the time I get to the front of the line, I am completely ready to order. I know exactly what I want, and the answer to any of the normal question I might be asked ("Soup or salad?" "Do you want fries with that?" "Room for cream?") I don't want to waste the time of the people behind the counter or the people behind me because I am not prepared. By the time I stand in line, I know exactly what I want.

12) When I am walking on the sidewalk, I walk on the right side (or the left side) - never in the center. If the people in front of me are walking on the left side, I walk on the left side... so I'm not creating a maze for people walking towards me. Everyone moving in the same direction should be walking on the same side of the sidewalk. I want to make it easy for people behind me to pass me, and people coming in the opposite direction to get around me.

13) When I step off and escalator or through a door I continue to walk several steps to make sure I am not blocking people behind me. I usually keep walking and survey my surroundings to see where I want to go, rather than stop and look around. That way I'm not holding up traffic.

14) When I am next in a check out line, I have money in my hand as well as a selection of change, so that nobody has to wait for me to dig into my pocket to find that nickle. I'm *prepared* to pay for my purchases. Oh, and because I'm strange, I often add up my items in my mind and figure in tax and have a pretty good estimate of what the total is going to be. I'm usually within a dollar either way, and that helps me know what kind of bills I should have in my hand when I get to the checkstand.

15) If I'm talking on my cell phone in public, I try to use a quiet voice or go outside - I don't want to bother other people with my conversation... and I kind of like privacy.

16) I try not to kick a man when he's down. Once I've made my point, I back off. Though I'm sure I've kept hammering away at somebody a few times on message boards, I usually back off. Also, when someone has a bad day, I don't make it worse... even if I hate them and my evil side would love to destroy them. It's not fair.

17) I always go to the restroom or go outside to blow my nose. It's gross to do it somewhere people are watching or listening... let alone trying to eat a meal.

18) I gauge traffic when I am merging, and pull out in an opening with enough distance between the car in front and in back of me... and at the same speed they are going. I don't stop to merge - that's silly. I don't want to cause anyone to jamb on their brakes or have to swerve - I want it to be a smooth blend of my car into the stream of traffic.

19) If I am walking with friends on the sidewalk and others approach us in the opposite direction, I step behind or in front of my friend(s) so that we are walking single-file, allowing those walking towards us half of the sidewalk to pass us. This isn't always easy - I have some friends who don't get it, and if I fall back, so do they.

20) When I'm wrong, I apologize, and I mean it.

21) My cell phone ringer is either set low or on vibrate - the rest of the world doesn't have to know my phone is ringing, and I really don't care if you hear my cool ringtone or not (it's the Peter Gunn theme - which is used in a bunch of commercials, and I often reach for my phone when it's just a Chase Bank commercial on TV.)

22) I don't block other people in an aisle or a store or a walkway or anyplace else - and I try not to stand in front of things other people might want access to.

23) If I make a mistake more than once, I try to make sure I don't make it a third time. You are supposed to learn from your mistakes, not keep making them over and over again. Sometimes, if it's some sort of bad habit, I find some way to punish myself if I keep doing it. I'm too old to have my mom spank me, so sometimes I have to spank myself. Not literally. But I do not reward myself for failure or making mistakes - I take away some pleasure until I stop screwing up.

24) I do not talk on my cell phone when I get to the front of a line - that's when I need to be focusing on paying or ordering or talking with the person on the other side of the counter. It's rude to the person behind the counter, it's rude to the person on the phone, and rude to the people standing behind me when I fumble through trying to hold two conversations at once.

25) In the grocery store, I push my cart down the right side of the aisle, and either stay on that right side when grabbing items off the shelves or move far enough away from my cart that I am not blocking both sides of the aisle - one side with my cart and one side with me shopping. I always leave half the aisle empty so that other people with carts can get past me.

26) If I am crossing a street as a pedestrian (or just walking across a parking lot entrance) I look at traffic in all directions - some times it's easier to wait for one car to pass even though I have the right of way. If I have to wait a minute so that things run smoother for everyone else, no big deal. And if cars are waiting for me to cross the street, I walk *fast* - I don't take my time when I'm also taking other people's time. The same thing if I am in my car: sometimes things will move faster if I let the other car go first. My car has well over 100,000 miles on it, and I have honked the horn maybe a dozen times. When I am out in the world, it's all about what works best for the world, not what works best for me. Oh, and I always use my turn signal. Always. Even in parking lots.

27) I try to be aware of everyone around me and stay out of people's way. If I'm blocking a bunch of people from getting where they want to go because I've got my head in the clouds thinking about something or talking on the phone or whatever - I'm holding up the whole danged world!

28) When I pick a table at a restaurant or a coffee shop, I try not to pick one that would be of better use to someone else - I'm one person, so I don't take a large table that might be better used by a family or a group, I don't take a table designed for handicapped access or might be more convenient for an elderly person. Sometimes these are the only tables available, so I have no choice - but I always think about others when I select a table.

29) If I'm walking in a shopping mall or hallway or sidewalk and need to stop, I move to the side (near the wall) and *then* stop, so that I am not suddenly stopping in front of someone and am out of the way *before* I slow down or stop.

30) I try to help people whenever possible - not because of some sort of karma thing where what goes around will come around back to me (that would be nice, but I'm not sure that's really how the world works), but just because it usually takes the same amount of effort to help people as to put them down or even ignore them. There are all kinds of people who seem to go out of their way to be mean or dismissive to people - and that's a lot of work just to be negative. Usually it takes the same amount of work to help people - and that makes the world a little better. I don't go out of my way looking for people to help, I just help anyone whose path crosses mine. That may be holding the door open for someone with their arms full or answering a question on a message board I visit or helping somebody find something if I know where it is (a street, a business, or even an item in the store). Most of these are silly little things that are part of our day-to-day lives, but my "default setting" is helpful. One of those things I learned from my parents.

By the way, I think one of the reasons why my brother and sister and I were so well behaved in public is that my mom encouraged us to *think about playing* and imagine what we would do when we got home and were allowed to run around in the yard and have fun. Or think about our toys and hobbies (my brother and I would think about Hot Wheels, my sister would think about Barbies - Mattel Toys won either way). Or think about our favorite televison shows or the book we were reading. We would sort of play in our minds... and entertain ourselves. No need to be little hellions in the grocery store. Those good manners, and thinking of others as well as ourselves, have stuck with me from childhood into adulthood.

(This was going to be called "Compusive Manners" but that didn't have the same ring to it.)

Thank you for reading this.

- Bill

Monday, November 07, 2016
Lancelot Link Monday! Tomorrow is election day in the USA, but today we are all Brothers And Sisters In Cinema - no matter who we vote for or against, we all love it when the house lights go down and the trailers start showing and that anticipation of a great movie experience washes over you. We hope this is going to be one of those movies that make our all time favorites list... movies we'll be talking about for decades to come. To celebrate our Brother And Sisterhood In Cinema, here are a dozen links - many to interviews this week - all celebrating movies. The first link after the Box Office scores is a special one! Ages ago I met Jen Wescott online at the Wordplay site, and a few years ago I met her in person (along with her producer sister Victoria) at Raindance Film Fest where they were debuting their first film TRAPPED IN A GARAGE BAND. I probably wrote about it in one of my books. Now they have a new movie... with some guy named John Cleese! Click on the link to find out more! Here's the thing - they made their own movie, got it into a major fest, and now they're off to the races! While you're thinking about that, here are this week's links to some great screenwriting and film articles, plus some fun stuff that may be of interest to you. Brought to you by that suave and sophisticated secret agent...
Here are a dozen links plus this week's car chase...
1) Weekend Box Office Estimates:
1
Dr. Strange .................... $84,989,000
2
Trolls.......................... $45,600,000
3
Hacksaw......................... $14,750,000
4
Boo Madea........................ $7,800,000
5
Inferno.......................... $6,250,000
6
Accountant....................... $5,950,000
7
JR:NGB........................... $5,580,000
8
O:OoE............................ $3,983,000
9
Girl Train....................... $2,775,000
10
Peculiar......................... $2,100,000
Yes, this is still a record year for Box Office... and we have that STAR WARS movie coming out later!
2)
People I Know In The News!
3)
Jeff Nichols On LOVING.
4)
5)
David Koepp Talks About INFERNO And Writing Blockbusters.
6)
Paul Schrader On Screenwriting... And Staying Relevant.
7)
Podcast Interview With HACKSAW RIDGE Screenwriter Robert Schenkkan.
8)
You Won't Have Tarantino To Kick Around Anymore!
9)
Interview With The Writers Of BAD SANTA.
10)
Awesome! Black Cinema Posters Through History!
11)
They Did The Math - And Your Film Will Be A Flop!
12)
Writing In Your Dead Time.
And the Car Chase Of The Week:
Everything's a remake!
Bill
IMPORTANT UPDATE:
-
Dinner:
Pages:
Bicycle:
Movie:
Friday, November 04, 2016
Hitchcock's daughter, Pat, was *in* STRANGERS ON A TRAIN, and these are her thoughts on the film...
We take a closer look at STRANGERS ON A TRAIN in my new Hitchcock book MASTERING SUSPENSE...
Plus: here's a HITCH 20 PLUS segment on basic cinematic language (which many directors today don't seem to speak!)...
- Bill
HITCHCOCK: MASTERING SUSPENSE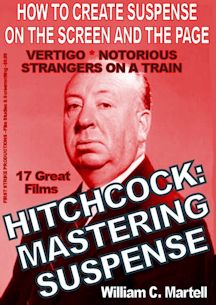 LEARN SUSPENSE FROM THE MASTER!
Alfred Hitchcock, who directed 52 movies, was known as the "Master Of Suspense"; but what exactly is suspense and how can *we* master it? How does suspense work? How can *we* create "Hitchcockian" suspense scenes in our screenplays, novels, stories and films?
This book uses seventeen of Hitchcock's films to show the difference between suspense and surprise, how to use "focus objects" to create suspense, the 20 iconic suspense scenes and situations, how plot twists work, using secrets for suspense, how to use Dread (the cousin of suspense) in horror stories, and dozens of other amazing storytelling lessons. From classics like "Strangers On A Train" and "The Birds" and "Vertigo" and "To Catch A Thief" to older films from the British period like "The 39 Steps" and "The Man Who Knew Too Much" to his hits from the silent era like "The Lodger" (about Jack The Ripper), we'll look at all of the techniques to create suspense!
Films Included: NOTORIOUS, SABOTAGE, STRANGERS ON A TRAIN, THE 39 STEPS, REBECCA, TO CATCH A THIEF, FRENZY, FOREIGN CORRESPONDENT, THE LODGER, THE BIRDS, TORN CURTAIN, SABOTEUR, VERTIGO, THE MAN WHO KNEW TOO MUCH (1934), THE MAN WHO KNEW TOO MUCH (1955), SUSPICION, and NUMBER SEVENTEEN. 17 Great Films!
Only 125,000 words!
Price: $5.99
Click here for more info!
HITCHCOCK DID IT FIRST!
We all know that Alfred Hitchcock was the Master Of Suspense, but did you know he was the most *experimental* filmmaker in history?
Contained Thrillers like "Buried"? Serial Protagonists like "Place Beyond The Pines"? Multiple Connecting Stories like "Pulp Fiction"? Same Story Multiple Times like "Run, Lola, Run"? This book focuses on 18 of Hitchcock's 53 films with wild cinema and story experiments which paved the way for modern films. Almost one hundred different experiments that you may think are recent cinema or story inventions... but some date back to Hitchcock's *silent* films! We'll examine these experiments and how they work. Great for film makers, screenwriters, film fans, producers and directors.
Films Examined: "Rear Window", "Psycho", "Family Plot", "Topaz", "Rope", "The Wrong Man", "Easy Virtue", "Lifeboat", "Bon Voyage", "Aventure Malgache", "Elstree Calling", "Dial M for Murder", "Stage Fright", "Champagne", "Spellbound", "I Confess", and "The Trouble with Harry", with glances at "Vertigo" and several others.
Professional screenwriter William C. Martell takes you into the world of The Master Of Suspense and shows you the daring experiments that changed cinema. Over 77,000 words.
Click here for more info!
Monday, October 31, 2016
Lancelot Link Monday! Happy Halloween - this week's links offer some pretty scary stuff for screenwriters and film folks, from the Best Unproduced Horror Screenplays Of The Year to Tippi Hedren's new Memoir... and everything in between. What's in Between? While you're thinking about that, here are this week's links to some great screenwriting and film articles, plus some fun stuff that may be of interest to you. Brought to you by that suave and sophisticated secret agent...
Here are a dozen links plus this week's car chase...
1) Weekend Box Office Estimates:
1
Boo! Madea ..................... $16,675,000
2
Inferno ........................ $15,000,000
3
Jack Reacher:NGB................. $9,550,000
4
Accountant....................... $8,475,000
5
Ouiji -1 ........................ $7,070,000
6
GOtT............................. $4,270,000
7
Peculiar Children................ $3,975,000
8
NOT Keeping Up................... $3,375,000
9
Storks .......................... $2,785,000
10
Mushkil .......................... $2,135,000
2)
Happy Halloween! Here's *The Blood List* - Best Unproduced Horror Scripts!
3)
Rise Of The Planet Of Great Female Horror Directors!
4)
Shane Black's Writing Process.
5)
The 1000 Monkeys Selected To Write SHERLOCK HOLMES 3 (Robert Downey, jr)
6)
For Your Consideration: Legal PDF Downloads From Sony's Films.
7)
Other For Your Consideration Scripts You May Have Missed.
8)
How A New Writer Landed Idris Elba In The Starring Role!
9)
Yesterday I Walked Past FFC's Restaurant In San Francisco - So Here's An Aricle On His DISTANT VISION.
10)
I Joke About "Direct Plug" TV... NetFlix Is Actually Working On It!
11)
Tippi Says Hitch Sexually Assaulted Her In New Book.
12)
AFM Starts At The End Of The Week: How To Work It!
And the Car Chase Of The Week:
Bill
IMPORTANT UPDATE:
-
Dinner:
Pages:
Bicycle:
Movie:
Friday, October 28, 2016
From 2006...

The last exhibit in our little gallery of gore might be called The Man Who Googled Himself... That's not a very good title, this tale of terror really doesn't have anything to do with Google - but my sister just sent me this new "game" where you Google the phrase "(Your first name) was arrested for" to find out about your sordid criminal past. You'd be surprised at all the criminal activities you've been involved in. You can only play this game once, so it isn't as good as the Elephant Panty game, where you take two completely non-related words, throw quotes around them, and do a search. Then read all of the weird stuff on the hundred or so websites dedicated to "Sewer Golf" or "Television Trousers" or whatever you've looked up.

I Google myself every so often to find out if I've been linked to Paris Hilton or if they've finally discovered that I'm the father of the TomKat baby. I always run across something even more unbelievable. I might do a 2 hour class on Film Noir and quip that most of the characters in these films wear hats... Only to discover someone who took the class says on their website that "Martell says the main requirement in writing a film noir script is to make sure every character wears a hat" - and this person is *serious*. Out of the *one thousand* sentences in that class, they've latched on to *one* and decided that's the key to writing a great script. This is some strange and misguided type of tunnel vision or selective hearing that leads to some really odd scripts. Pretty scary stuff!

I think how this happens is that the person already has some sort of odd hat fetish, and - like those dogs in Gary Larson cartoons who only hear "Blah, blah, blah, blah, Ginger, blah, blah, blah..." - these folks only hear what they want to hear. If it wasn't about hats, they didn't hear it. When I find something like this on a website or message board, I wonder what I can do to prevent it the next time I teach a class... but I'm not sure how. I welcome your suggestions.

A friend of mine is a young writer-director who sees everything as if it relates to the struggles of his ethnic minority. He would even look at the "Television Trousers" results of the Google search and come away with how it relates to his ethnic minority. This writer-director has found funding within in his community to make four very political films. All are dramas about the struggles of his people. His first film got a lot of press, played in some film festivals, but never got picked up by a distrib. I saw the film at a local festival, and it was more political than dramatic - lots of speeches. Haven't see his other three films, but they've gotten less press and fewer festivals have shown them. None of them are on DVD - no distrib. Now his community funding sources are starting to dry up, so he decided to make a horror film, because horror films are hot right now.

When my friend told me about this, at first I was surprised. This is a guy who thinks Hollywood makes stupid movies for stupid people. Most of our conversations have been the great debate about selling out versus being true to your beliefs. If you've spent much time on my website you know that I advocate being subversive - making genre films with a message. The script I'm currently trying to finish rewriting before I fly to London is a sci-fi action story about an agent with the Federal Department of Alcohol, Tobacco, Firearms & Androids hunting down some renegade androids set on overthrowing the US Government... but it's really about tolerance. I've taken a bunch of situations that deal with prejudice against minorities and turned the illegal immigrants and Gay marriage and sweat shop labor and National Anthem in Spanish and people smuggled over the border in metal containers into... androids. I can deal with all kinds of issues in a script that most people will think is just an action movie.

So I told him I thought it was a great idea. Minorities are under-represented in Hollywood films, and horror films like my friend Darin's TALES FROM THE HOOD and Snoop's BONES were good, solid money earners with some cross-over (big fat white guys like me even paid to see them). I gave him a copy of my Horror Class CD and the usual advice to rent a bunch of horror movies and study them - take them apart and find out what makes them tick, and use that information to write his screenplay. I also told him that just because it was a horror movie, doesn't mean it has to be stupid. You can make a point within a genre film.

Some of you may be shocked that he had four previous films that didn't get distribution even though they played at festivals. When people hear the phrase "didn't get distribution", they think that refers to *theatrical* distribution. I mean, they'll put anything on DVD, right? You've seen some of the crap they put on DVD... maybe even one of my 36 Oscar Worthy Films Starring Tom Cruise. Hard to imagine a film not being good enough for DVD.

At a panel at VSDA (video software dealers association) the distribs said that about 27,000 independent feature films are submitted to them every year (you read that right)... and each distrib only buys a few of them. A company like Asylum makes 12 films a year and buys another 12. Even if there were 100 distribs buying that many films a year, it's still only 1,200 films - that's just over a fifth of the movies made every year. And I don't think there are 100 big distribs out there... I'm not even sure there are as many as 30 distribs of any size. That means distribs can be really picky. And even the artsie distribs on the VSDA panel said it all comes down to what they think the public will buy or rent on DVD. Even artsie distribs have to pay their office rent and power bills.

I think the problem with my friend's previous 4 films was that they had a target audience (his minority) but weren't the most entertaining movies that targeted that audience. And that may even explain that crap that does get released on DVD - when you've spend 40 hours being abused by "The Man" for lower than average wages and having total strangers hate you for the color of your skin or the person you love or your wheelchair or your religion, do you really want to watch a movie about that? Wouldn't you rather watch a lesbian vampire movie featuring members of your minority? Or a haunted house movie featuring members of your ethnic minority? Or a monster movie featuring members of your ethnic minority?

So the majority of the 27,000 films submitted to distribs every year get no form of distribution at all, because "The Man" can't make a buck off them. So my friend is going to make a horror film, because "The Man" can make money on a horror film, and some of that money will trickle down to his investors and his community. Not a bad thing to make some money while showcasing the very talented people in his community.

The next time we have coffee, he's telling me how his script is going - but all he talks about is the minority angle. It's almost as if he's talking out one of his other 4 films. I ask him if he's had a chance to listen to my class, yet... he says he hasn't gotten around to it. That's okay, he's writing. Always a good thing to be writing.

A few weeks later we bump into each other and I ask about the script. He tells me he's almost done, and the good news is that his investors are really excited. They are going to give him more money than he had on his other 4 films, because this one is a winner. I ask about the story, and he gives me the capsule version - and it doesn't sound like a horror story to me at all. In fact, it sounds like a love story! This is strange. I ask him about the horror scenes - and he describes a scene that doesn't sound scary at all. It sounds *political*. I ask what horror movies he watched before writing the script. He tells me he started to watch NIGHTMARE ON ELM STREET but turned it off after ten minutes because he thought it was garbage. He didn't watch *any* horror movies. I ask if he's ever seen a horror movie before. "Yeah, when I was a kid." I ask him about that experience - he tells me he used to love movies like that, then he outgrew them. He's opened his eyes to the world around him and has seen....

When I ask how he knows if he's making something that even fits in the horror genre, he tells me it doesn't matter because he's writing from his heart and being heartfelt and honest is more important than selling out. Wow, we're back to that.

I ask if anyone *dies* in his script, and the answer is "Of course!" But then he explains how a character who is prejudiced gets thrown in front of a bus and run over. The more he talks about his script, the more it sounds like the slightly more violent version of his other 4 films. But it doesn't sound anything like a horror film at all (except for a big violent ending that could go either way).

I advise him that potential distributors are "The Man" and will care more about the commercial aspects than the social aspects of his film - so maybe he should grab some horror DVDs and watch them and maybe do a touch-up rewrite on his script (which probably needs a page one), just to fool distribs into buying his finished film. He says he might do that... but I didn't think he would.

So, a couple of weeks ago I have coffee with him again - he has finished his script and begun pre-production. I ask him a few story questions - and it seems that the story has even less horror, now. The original ending he told me about, that was kind-of-horror, he changed into more love story. I am so confused by this, I ask him about the over-all story again... and it's morphed into a social-political themed story where a couple of people get killed in ways that don't sound scary at all. "But, weren't you trying to make a horror movie?" "This is better." "What about distribution?" "You can't know what they want, so why even think about it? This is my best work so far. And, because it's a horror movie, they'll probably buy it."

I would like to have said: But it isn't a horror movie! though I didn't. I wished him good luck. There's a weird rule with friends - you have to be supportive. If this guy was a stranger on a message board I would have called him a moron and explained that he was continuing the same self-destructive patterns he was trying to break by making this film. But you have to wish a friend good luck and offer to crew for him if he needs you.

He didn't need me. He had a nice budget.

That's good, because I can't imagine being on set for this film every day. It would be like watching someone try to kill themselves again and again. There's this great scene at the end of Roman Polanski's horror flick THE TENANT where the lead jumps out of the window of his apartment to stop the other tenants from trying to drive him crazy... he hits the pavement in front of the building... and lives! His landlord (who has bat wings) and his super (who has a lizard tongue) try to help him. They want to keep him alive and play with him some more. But he drags his battered body up the steps to jump again! That's what working on that film would be like - watching someone keep trying to kill themselves over and over again until they got it right. I don't have the stomach for that. When I see a *stranger* do something stupid like race across a busy street against the light to catch a bus or something, I worry about them. I want to stop them from their self-destructive behavior. I'm sure I would have spent every day on set hinting that maybe a scene with a guy in a hockey mask with a machete might be interesting at this location.

He's filming right now. He managed to get a couple of known actors in his film - members of his minority group who are supporting the cause (not Snoop - he's probably doing a *real* horror film). For all I know, this one may find a distrib... but I'm not holding my breath.

This brings our little trilogy of terror to a close. Hope you don't have any nightmares. I said at the beginning that this was a fable, but I'm not going to tell you the moral to the story - I'll let you figure that out on your own. You may come up with a different moral, or see these stories in ways that I could never imagine....

Maybe to you, it's all about the hats.

- Bill
Thursday, October 27, 2016
From 2006...

Originally this was going to be one blog entry, but I decided to break it up into bite-sized pieces. Easier to digest, right? This painting in our gallery of gore starts with a director who made some forgettable low budget action films in the late 80s/early 90s and ended up directing syndicated TV shows. You remember all of those shows in the 90s that played on some non-network channel? Stuff like RISING SUN and COBRA and VIP? Well, they don't make those shows anymore, so this director is out of work. But, like everyone else, he decided to make a horror movie because horror movies are hot right now. He assembles some private financing and a distribution deal – his budget is around a million bucks. I hint around that I would be willing to write a script for below my quote... and I even have a couple of horror scripts sitting around that could be made on that budget. He wants to develop his own project, and is going to work with a non-WGA writer (who he won't pay until the film is completed) to save development money. Okay.

I suspect this is really a control issue. One of the strange things I've noticed in my career is that the more established you become, the fewer insecure people want to work with you. It's the opposite of how it should be. If I have a script that went wide and got me 48 studio meetings, some people will refuse to read that script because they can't easily dismiss it. A strange thing happens when directors or producers think your script may actually be good - it puts pressure on them not to screw it up. They can make a bad script better, but all they can do with a good script is screw it up... so they may be more interested in a flawed script than one that is ready to go. An actor in one of my films has a policy to *only* work with actors worse than he is, so that he always looks better. What makes no sense about this is - you should always be looking for the best elements. A good script, a good cast. If that actor surrounded himself with *better* actors, he wouldn't look bad... he'd look like the star of a film with bigger names in supporting roles. Makes him look bigger than the other names! And with great supporting actors, the film becomes a better film. And when the supporting cast raises the bar, you're more likely to step up and do better work... Unless you're afraid that this will expose you as completely talentless. Then you want to work with people of lesser talent, and you end up with crappy films. That's one of the reason B movies often suck. Even if they begin with a great script, they *need* to screw it up so that they retain their power.

So this director hires a writer with no credits... basically a typing monkey who will write whatever he says to write. He ends up with a script that he tells me is great (but will not show me) and starts pre-production. But in the small world of Hollywood, an actor friend of mine (not Jim) gets a copy of the script and passes it on to me after reading it. Why? Because this is a horror film completely without horror. It has a lot of action, some big stunts, a car chase, and several explosions... but no horror. It's not scary. I think this director isn't confident that he can make a scene scary, but he knows he can wrangle a car chase.

So he makes the film and his distrib releases it on DVD... and the horror fan magazines (like Fangoria) all mention the lack of actual thrills. One of the weird problems with this film is casting - he's cast a female lead who has done horror films before, but everyone else is mostly unknown. All of my friends who have seen the film wonder where the budget went - not to the cast... but maybe the stunts were expensive. We later find out he paid himself his quote - the top $ he's ever made - even though this made him the most expensive single element in the film. Money in his pocket, but not on screen.

The film ships okay, but it's mostly a rental - few people buy it. The horror fans are not fans of this film, and the casting and story make it unappealing to the action fans. Not a flop, but not a hit. And everyone agrees that it stinks. The script is just awful. Obviously, this makes me angry for personal reasons - I could have done a much better job than this typing monkey did... Except I wouldn't have been a typing monkey. The job was for a typing monkey, not a screenwriter.

And just to screw up any moral to this story... he's just put together private financing of over a million dollar for another horror movie (even though he can't find a distrib willing to take it before he's made it). And this new project, with a different typing monkey (being a masochist - I hinted again that I had some horror scripts laying around and would take less than my quote - again he's using a new, unsold writer), also seems light on horror and heavy on stunts. I wish I had a million bucks to make a horror movie!

Which brings me to that writer from blog entries past - the guy with the PR firm telling everybody how brilliant he is. Well, he's managed to burn a bunch of bridges with late scripts that aren't very good, and he's finding it difficult to get hired for assignments. No one wants to buy his specs (the same old ones) and all of those stars who are attached in his mind aren't attached in reality... making the projects not so hot. But, you know, what he's always wanted to do is direct... and horror films are hot right now.

So he decides to make a horror film about two years ago. His theory is that the horror movies are easy to make, you just need some horror stuff in a script and all of those stupid horror fans will pay to see the movie. I mean, look at some of the crap that's made money! So he throws together a script... and tells me the story one day. I don't think it sounds like a horror story at all - even though it deals with zombies. It's a zombie movie with only *one* zombie. And that zombie is part of government experiments - so it's controlled. It's a zombie in a lab. It never attacks anyone. It can't attack anyone. But some guys in the government lab poke it with sticks. Actually, the story sounds dull. I mention that it sounds kind of short on conflict, he dismisses this. He uses his press clippings to find financing. (Yes, the world is not fair.) He uses his agency, WMA, to help him with cast - a good mix of fading stars and up and comers. I'm actually impressed by the names he has *actually* attached. Part of his funding deal involves shooting out of state in New Mexico (tax incentives). He finishes the film and shows it to distribs... and they all turn it down. No horror. Part of the reason why they turn it down is because his asking price is so high - he wants to make a bunch of money from this movie. He wants a *guaranteed* theatrical deal. He wants the deal that matches the PR firm's image of himself.

No one wants to give him that deal. The film is slow paced and not scary at all. Even with his cast, it's a tough sell. Who wants to watch a not-scary horror film?

Last time I saw the guy, he told me that his film is great, and he's going to have his PR firm take a stab at marketing it. This may mean it will be coming soon to a theater near you. Like I said, the world is not fair. You may soon be paying $10 to see a boring zombie flick with a pretty good cast - and that in itself is pretty scary stuff!

Episode number three is about a guy I know who makes political films about being a minority who decided to make a horror film... because horror is a hot genre right now. Some of you may not want to stay tuned, because you already know how this one's going to come out.

- Bill