Around 10 and a half years ago at this time we lost screenwriter John Michael Hayes at age 89 (November 19th, 2008).
Hayes was one of the first screenwriters I noticed. After watching a ton of movies, and realizing that someone had to write them, I started looking at the names of the writers in the credits of some of my favorite movies... and noticed Hayes' name popping up again and again in Hitchcock film. He scripted REAR WINDOW from a short story I had read by one of my favorite fiction writers, Cornell Woolrich. Because I knew the short story, I also knew what was invented and changed for the movie - a bunch of stuff! Practically the whole movie is new material, since the story is about an invalid man and his male servant and the murder across the courtyard. Hayes also wrote the remake of THE MAN WHO KNEW TOO MUCH and THE TROUBLE WITH HARRY and TO CATCH A THIEF for Hitchcock.
But I also knew Hayes from his script of Lillian Hellman's play THE CHILDREN'S HOUR, the version that starred James Garner. I played that role in my High School theater department version. I was talking about CHILDREN'S HOUR on the day Hayes died, because I had just seen a screening of DOUBT - which is pretty much the same story but set in a Catholic school. And I knew Hayes from HARLOW and THE CARPET BAGGERS and NEVADA SMITH... and WALKING TALL. His name popped up on a bunch of films I'd seen.
Hayes began his career as a radio writer for shows like SAM SPADE (I had some of those on tape when I was a kid) and INNER SANCTUM (had a bunch of those on tape, too). After writing 1,500 radio scripts, he started writing movies and became Hitchcock's main writer... which made him one of the top writers in town. He adapted BUTTERFIELD 8 and PEYTON PLACE for the screen in addition to the Harold Robbins novels. His last produced script was the Disney dog sled movie IRON WILL in 1994. He will be missed.
What were the first screenwriters you noticed?
- Bill
My books on Hitchcock's films...
HITCHCOCK: MASTERING SUSPENSE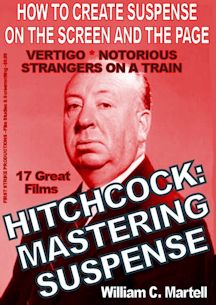 LEARN SUSPENSE FROM THE MASTER!
Alfred Hitchcock, who directed 52 movies, was known as the "Master Of Suspense"; but what exactly is suspense and how can *we* master it? How does suspense work? How can *we* create "Hitchcockian" suspense scenes in our screenplays, novels, stories and films?
This book uses seventeen of Hitchcock's films to show the difference between suspense and surprise, how to use "focus objects" to create suspense, the 20 iconic suspense scenes and situations, how plot twists work, using secrets for suspense, how to use Dread (the cousin of suspense) in horror stories, and dozens of other amazing storytelling lessons. From classics like "Strangers On A Train" and "The Birds" and "Vertigo" and "To Catch A Thief" to older films from the British period like "The 39 Steps" and "The Man Who Knew Too Much" to his hits from the silent era like "The Lodger" (about Jack The Ripper), we'll look at all of the techniques to create suspense!
Films Included: NOTORIOUS, SABOTAGE, STRANGERS ON A TRAIN, THE 39 STEPS, REBECCA, TO CATCH A THIEF, FRENZY, FOREIGN CORRESPONDENT, THE LODGER, THE BIRDS, TORN CURTAIN, SABOTEUR, VERTIGO, THE MAN WHO KNEW TOO MUCH (1934), THE MAN WHO KNEW TOO MUCH (1955), SUSPICION, and NUMBER SEVENTEEN. 17 Great Films!
Only 125,000 words!
Price: $5.99
Click here for more info!
HITCHCOCK: EXPERIMENTS IN TERROR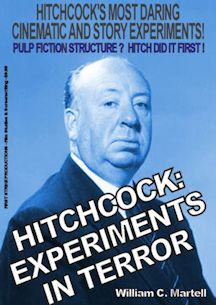 HITCHCOCK DID IT FIRST!
We all know that Alfred Hitchcock was the Master Of Suspense, but did you know he was the most *experimental* filmmaker in history?
Contained Thrillers like "Buried"? Serial Protagonists like "Place Beyond The Pines"? Multiple Connecting Stories like "Pulp Fiction"? Same Story Multiple Times like "Run, Lola, Run"? This book focuses on 18 of Hitchcock's 52 films with wild cinema and story experiments which paved the way for modern films. Almost one hundred different experiments that you may think are recent cinema or story inventions... but some date back to Hitchcock's *silent* films! We'll examine these experiments and how they work. Great for film makers, screenwriters, film fans, producers and directors.
Films Examined: "Rear Window", "Psycho", "Family Plot", "Topaz", "Rope", "The Wrong Man", "Easy Virtue", "Lifeboat", "Bon Voyage", "Aventure Malgache", "Elstree Calling", "Dial M for Murder", "Stage Fright", "Champagne", "Spellbound", "I Confess", and "The Trouble with Harry", with glances at "Vertigo" and several others.
Professional screenwriter William C. Martell takes you into the world of The Master Of Suspense and shows you the daring experiments that changed cinema. Over 77,000 words.
Click here for more info!