Just a reminder...
Thursday May 27th at 7:30pm at the Egyptian Theater in Hollywood, the Los Angeles Premiere of POPATOPOLIS - a film I saw at the Raindance International Film Festival in London last year. The movie is being released on DVD, and this screening is a celebration...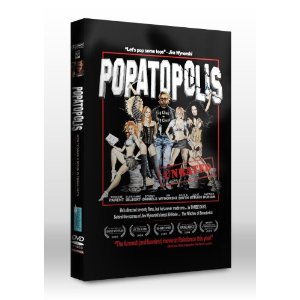 POPATOPOLIS is a film that answers the question - can you make a feature film in 3 days with a crew of only 2, starring women with freakishly large breasts who may be too top heavy to stand? B movie director Jim Wynorski can... and this doc chronicles every crazy minute.
Here is a link to my review from London -
POPATOPOLIS.
If you are in Los Angeles and like sleazy low-end Z movies, come on down and see this documentary on how they are made!
LOST
Over 45 minutes of adverts... at $900,000 per 30 second spot = over $81,000,000.00 for the final episode.
- Bill
IMPORTANT UPDATE:
TODAY'S SCRIPT TIP:
Writing For Toys - and the video game for THE GODFATHER PART 2.
Dinner:
City Wok - Gai Bowl.
Bicycle:
Short!
Pages:
um, none. Totally screwed up day.