My friend Duane made this film, and ever since seeing it on a borrowed VHS, I have made sure to see it every time it plays in some Los Angeles cinema, which is fairly often, because once the programmer at the New Beverly or American Cinematheque saw it *they* also want to see it again and again. Now Duane is winning a bunch of awards for his acting in the film EDGE OF TOWN (2022) and TOGETHER & ALONE is on Blu-ray... So here's my review from one of the times I saw it in the cinema...
Director:
Duane Whitaker.
Writer:
Duane Whitaker.
Starring:
Casey Siemaszko, Stacie Randall, Daniel Roebuck, Tim Thomerson, Joe Unger, Duane Whitaker, Mariah O'Brien, Joe Estevez.
Produced by:
Nell Isgate, Patricia Anne Isgate-Hayward.
Cinematographer:
Sean Hughes II.
Music by:
Matt Davis.
TOGETHER & ALONE - I had seen it once on DVD or VHS, but never on the big screen. This film is the bridge between Robert Altman and Mumblecore. When I'd seen it earlier, I got a little teary at the end. This time, other parts got to me as well. Big ensemble cast playing people living on the fringe in Hollywood who know they are not going to make it. The hope has been pounded out of them. Like in Duane's EDDIE PRESLEY, they all hang at the same greasy spoon diner - and that is where their lives intersect. Very funny, very sad - this is one of those films that some critic somewhere needs to discover and champion. Duane wrote the script, directed, and plays one of the roles. The film was made for pocket change, and I suspect some of the stuff shot on the streets of Hollywood was done without permits (there's a bit at the end where an unsuspecting person ends up part of a scene where a character goes crazy and starts yelling). The one problem with the film is that it does not have the flow of Duane's EDDIE PRESLEY (directed by the great Jeff Burr) and there are abrupt and jarring cuts between scenes... but that kind of fits right into the whole Mumblecore thing, so we'll just say this film was ahead of its time.
This is the old trailer, new one for the Blu-Ray release further down.
Here are the story threads in this tale of one day in the life of Hollywood hopefuls who lose all hope...
Billy (Casey Siemaszko) is a guitar player with real talent in some garage band that plays all kinds of low rent clubs. He's dating a rich girl from a wealthy Texas family, and is about to be introduced to her father (Tim Thomerson) for the first time, and is a little nervous. So nervous that he misses a sound check with his band - who are about to cut a demo record. That demo record might be Billy's big break...
Zevo (Duane) is the leader of the band - all of them have really big hair - and gets pissed off when Billy's a no show, and tries to turn the rest of the band against Billy and vote him out of the band. Problem is, the rest of the band are idiots, and Billy is a good guitar player, and Billy also brings beer to rehearsals sometimes. Zevo is so cheap that he goes into a strip bar to borrow the phone when there's a perfectly good payphone outside. After the band stops being distracted by strippers, they decide to vote Billy out of the band - leaving them without their most talented member and leaving Billy adrift and without hope. There's a nice scene where Billy and his girlfriend end up at the base of the Capitol Records Building, and he talks about his dreams of a recording deal... and how they are probably never going to happen.
In the Greasy Spoon Diner where their lives intersect...
Chad the screenwriter (Tom Denolf) lays out his pens in a specific pattern on the counter and opens his legal pad to write... when a pair of pests sit on either side of him. An older dude who keeps asking him what he's doing... and eventually starts to hit on him with the weirdest pick up lines you've ever heard, and Dougie Westa (Danny Roebuck) the worst actor in the world - his car is plastered with his headshots in a parody of Dennis Woodfruff's car - sits on the other side of Chad and asks if there's a role in the script for him. These three guys provide some great comedy bits throughout the film.
At another table are burned out actor Roscoe (Joe Unger in an Oscar calibre performance - really, this is one amazing piece of acting) and just out of film school young director Gene (Thomas Draper) who is buttering up Roscoe to be in his short film about a door-to-door bible salesman who kills people. Though I have no idea what % of the film this story thread is, it *dominates* the film due to Unger's performance as a guy who knows he's a has-been without ever really being somebody. He's spent his life being a bit part player with his best roles on the cutting room floor (in real life, Unger's big break-out role in ESCAPE FROM NEW YORK ended up on the cutting room floor). He has this great rant about how Hollywood just screwed him over, and how lesser talents went farther. Unger manages to be angry and vulnerable and sad all at the same time... and Gene has to put up with all of this in order to get Roscoe in his short film. Gene has a girlfriend, who is an actress....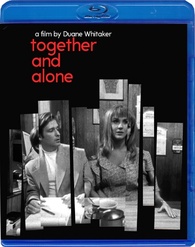 Laura (Stacie Randall) is taking an acting class from blowhard acting teacher Blaine (Joe Estevez - Martin Sheen's brother) who has a big showcase for his acting class coming up where big time agents and big time talent scouts are supposed to be in the audience. There will be wine and cheese after the showcase, but only if the acting students bring the wine and cheese, because Blaine sure as hell isn't paying for it. When Roscoe talks bout those guys who got undeserved breaks, he mentions Blaine's name - Blaine was once in an episode of LASSIE in a featured role. Blaine has a photo of him and Lassie in his scrap book... that he shows to Laura after class... just before trying to rape her. See, she's the only one in his class with any talent, so obviously they were meant to be together, right? Laura kicks him in the nuts - hard - and splits for the diner and Gene.
The part that made my eyes damp the first time I saw it was Janet (Harri James) the female comedian who goes to open mike night and bombs. Bombs big time. And realizes that she is not funny at all, and her dream is never going to happen. After being booed off stage, she gets in her beat up old car... which blows up! Now she has no car, no dreams, no nothing. She wanders to a bus stop where she meets Rusty (John Bishop) a shaggy guitar player who hasn't really made it, but sold some songs. As they wait for the bus - which never comes - they tentatively hit it off... and decide to take a cab to her place, where they do not have sex... but share some powerful moments where they talk about their failure to crack Hollywood. Then, as she sleeps, he writes a song about her. A sad song. The funny part about this is that I started getting misty eyed at the friggin' bus stop scene! I knew that song was coming, and it was already working on me! Anyway, that is one great scene.
There are two "glue characters" who also connect these story threads... Buffy the free-spirit waitress at the greasy spoon café (Mariah O'Brien) and the chatty philosopher / taxi driver (Larry Lyles) who picks up Rusty and Janet and a few of the other characters and transports them from one location to another. Chad the screenwriter works up the nerve to flirt with Buffy, and eventually asks her out. This is a great little scene. Afterwards, there's a funny scene where Gene and Laura are talking and he jokes about a 3-way with another woman. Laura puts him on the spot by calling over Buffy and asking why she thinks men want that kind of stuff. Buffy thinks it's just because they're dogs, thinks the whole 3-way thing is gross... except for the time she did it, oh, and the other time she did it, oh, and the time before that when she did it, and...
The taxi driver guy talks a mile a minute and has a theory about everything and is funny as hell - he practically steals the show! You keep wanting one of the other characters to flag down a taxi! He has this crazy story he tells about how his ex-wife ran away with some clown... a real clown. Guy who does kids birthday parties. Worst thing was that she got custody of his little girl, and he wasn't around to be a father to her... some clown was. When Buffy flags down the taxi, and it's his cab, we can't wait to hear whatever rambling monologue he's going to do while he drives her home after her shift. Along the way, they pass Roscoe - who has flipped out and is wandering the streets of Hollywood screaming, then when he pulls up in front of her apartment she kisses him and it's revealed that she is his daughter. Cool moment that brings all of the story threads together.
This is a pocket change movie that I enjoyed much more than any of the Mumblecore films I've seen - some critic needs to discover and champion this film so that it can find a larger audience...
And it seems that has happened enough that we finally have a Blu-Ray!
- Bill