This is a great new documentary series called HITCH 20 that I have been a "guest expert" on (season 1). The series looks at the 20 TV episodes directed by Hitchcock and here is the third episode of the second season, which looks at the importance of specifics of Hitchcock's work on screen (and on the page, or it never gets to the screen). This new season is without me. I was juggling too many things and thought I'd squeeze it in, but just didn't have the time. But I'm still be featuring it here, because it's a great show.
THE PERFECT CRIME (Season 2, Episode 3).
Hitchcock was famous for saying that he didn't like mysteries, so this episode ends up being a send up of the genre and Sherlock Holmes and C. Auguste Dupin are alluded to as our protagonist's equals... then the story tears our protagonist apart piece by piece.
Oh, I should mention that this famous detective is played by Vincent Price... and for me that's the coolest part of this episode: Hitchcock directing Vincent Price!
The story has a lawyer played by James Gregory coming to see the great detective about a case he may have got wrong... and an innocent man who may have been executed. Though most of the story is those two verbally battling it out in Price's living room, there are a trio of flashbacks that show us portions of Price's detective work and then Gregory's information which changes the story so that some of the evidence from Price's flashback has a different explanation. The flashbacks have no dialogue, they are all narration... and this reminded me of Hitchcock's much better experiment alomg the same lines in BON VOYAGE (1944) one of his films for the French Resistence. I look at that film in EXPERIMENTS IN TERROR... it shows the same story twice, but the information we learn the second time around changes what we've seen the first time. In a way it's the predecessor of movies like RUN LOLA RUN and HILARY AND JACKIE and RASHOMON where the same story is seen multiple times and possibly for different points of view so that it changes every time we see it. BON VOYAGE shows an RAF Pilot who was shot down behind enemy lines and a Polish POW using the French Underground to escape Nazi Occupied France... and that's what happens the first time we see the story. The second time, we discover that the Polish POW is actually an enemy soldier who is killing all of the French Underground members that the RAF pilot takes him to! In PERFECT CRIME we see Price at the scene of the crime collecting evidence and noting things like the footprints of the killer pacing back and forth outside the crime scene... but in Gregory's version of that event the innocent man isn't pacing back and forth, he's walking back and forth of the real killer's footprints (his lover) to obscure them. The same piece of evidence has two different meanings!
One of the other interesting scenes in a episode is when Price and Gregory have a verbal duel, each trying to show the other that they are superior. Hitchcock shoots both men from about waist level aiming up at their faces so that they appear to be towering over us... superior to us. By having Price verbally blast away at Gregory from this angle which makes him appear to be superior, he gets the upper hand... until we cut to Gregory countering, verbally showing his superiority to Price (which the up angle makes Gregory seem superior to us)... and then we cut back to Price who counters... and because we cut back and forth between these two men shown at an upward angle so that they seem superior to the audience, we feel that this really is a duel of wits!
Things like camera angles, camera movement, composition, juxtaposition, and lighting are part of the basic language of cinema which Hitchcock was fluent in. Note the change in lighting on Price during the verbal dueling scene.
Bill
Of course, I have my own books on Hitchcock...
HITCHCOCK: MASTERING SUSPENSE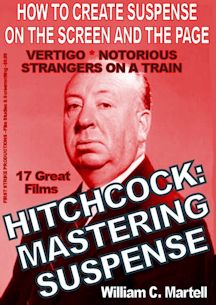 LEARN SUSPENSE FROM THE MASTER!
Alfred Hitchcock, who directed 52 movies, was known as the "Master Of Suspense"; but what exactly is suspense and how can *we* master it? How does suspense work? How can *we* create "Hitchcockian" suspense scenes in our screenplays, novels, stories and films?
This book uses seventeen of Hitchcock's films to show the difference between suspense and surprise, how to use "focus objects" to create suspense, the 20 iconic suspense scenes and situations, how plot twists work, using secrets for suspense, how to use Dread (the cousin of suspense) in horror stories, and dozens of other amazing storytelling lessons. From classics like "Strangers On A Train" and "The Birds" and "Vertigo" and "To Catch A Thief" to older films from the British period like "The 39 Steps" and "The Man Who Knew Too Much" to his hits from the silent era like "The Lodger" (about Jack The Ripper), we'll look at all of the techniques to create suspense!
Films Included: NOTORIOUS, SABOTAGE, STRANGERS ON A TRAIN, THE 39 STEPS, REBECCA, TO CATCH A THIEF, FRENZY, FOREIGN CORRESPONDENT, THE LODGER, THE BIRDS, TORN CURTAIN, SABOTEUR, VERTIGO, THE MAN WHO KNEW TOO MUCH (1934), THE MAN WHO KNEW TOO MUCH (1955), SUSPICION, and NUMBER SEVENTEEN. 17 Great Films!
Only 125,000 words!
Price: $5.99
HITCHCOCK: EXPERIMENTS IN TERROR
Click here for more info!
HITCHCOCK DID IT FIRST!
We all know that Alfred Hitchcock was the Master Of Suspense, but did you know he was the most *experimental* filmmaker in history?
Contained Thrillers like "Buried"? Serial Protagonists like "Place Beyond The Pines"? Multiple Connecting Stories like "Pulp Fiction"? Same Story Multiple Times like "Run, Lola, Run"? This book focuses on 18 of Hitchcock's 53 films with wild cinema and story experiments which paved the way for modern films. Almost one hundred different experiments that you may think are recent cinema or story inventions... but some date back to Hitchcock's *silent* films! We'll examine these experiments and how they work. Great for film makers, screenwriters, film fans, producers and directors.
Films Examined: "Rear Window", "Psycho", "Family Plot", "Topaz", "Rope", "The Wrong Man", "Easy Virtue", "Lifeboat", "Bon Voyage", "Aventure Malgache", "Elstree Calling", "Dial M for Murder", "Stage Fright", "Champagne", "Spellbound", "I Confess", and "The Trouble with Harry", with glances at "Vertigo" and several others.
Professional screenwriter William C. Martell takes you into the world of The Master Of Suspense and shows you the daring experiments that changed cinema. Over 77,000 words.
UK Folks Click Here.
German Folks Click Here.
French Folks Click Here.
Espania Folks Click Here.
Canadian Folks Click Here.
Bill