Screenplay by Norman Krasna.
There are no cross-dressing killers, no stolen microfilm, no man wrongly accused of a crime in this Hitchcock film - it's a standard rom-com. Weird, huh? I have seen all of the Hitchcock films on the big screen including this one - a non-thriller - but I have to admit I saw MR. & MRS. SMITH decades ago on a Hitchcock triple bill and it was the last film playing and, well, I may have fallen asleep. I have not see it since, and never owned it on VHS and did not own it on DVD... and worried that it might suck. Did I really want to buy the DVD? I mean, spending $15 for THE PARADINE CASE was a waste of money, but I could chalk it off to being a completist, right? I mean, it may be lame, but it is still kind of a thriller. MR & MRS SMITH is a rom-com, a chick flick...
So I grabbed my Hitchcock/Truffaut to see what Hitch said about it... and he says nada! When Truffaut brings up the film, Hitch tells an amusing anecdote about Carole Lombard and then changes the subject. The only thing he really says about the film was that it was a favor to Lombard and he just followed the script. Did I really want to buy this on DVD?
Worse - the film was part of a $99 box set and I owned all of the other movies but one. Sure, I could get it at Amazon for $70... but I didn't want to spend anything near that much for a rom-com that probably put me to sleep the last time I saw it. Damn this blog!
Then I discovered that there were 3rd party vendors who had probably bought the set, broken it up and sold all of the popular films (STRANGERS ON A TRAIN, NORTH BY NORTHWEST) and were now stuck with MR. & MRS. SMITH... and were selling it for $4. Deal.
Here's the thing - this is a typical 1940s rom-com, funny, charming, and good. I think if Hitchcock had *not* directed it, people would love it and put it up there with THE AWFUL TRUTH and HIS GIRL FRIDAY. But the Hitchcock audience isn't really the rom-com audience and vice-versa... so people haven't given it a chance. I thought it was fun.
Nutshell:
David (Robert Montgomery) and Ann Smith (the beautiful Carole Lombard) are a passionately married Manhattan couple... and have rules that will keep them married. That passion thing is great when things are going well in the relationship, but when things go wrong they are just as passionate and throw things at each other. So they have the rules - one of which is that no one can leave the bedroom after a fight until they have made up. Problem is, this cuts into David's work week sometimes (he's a lawyer). They can stay angry at each other for a loooong time!
Another rule is that after they've made up, each gets to ask the other a question... and they must answer honestly. Note to men in a relationship: this is a trap. No woman ever wants you to answer honestly ("Yes, those jeans make your ass look *massive*!") they want to hear the lie that makes them feel good. So David makes a huge mistake by answering that he misses being single and probably wouldn't marry Ann if he had to do it all over again. He loves her, he can't live without her, but probably wouldn't marry her again. She doesn't like this answer, but they're married, so the point is moot, right?
When a clerk (Charles Halton) from the town they were married in tells David that one of those only-in-the-movies clerical errors has nullified their marriage, he thinks for a moment that this may be his chance for freedom. The clerk was a childhood friend of Ann's, stops by their apartment to visit and lets slip that she isn't really married to David. Ann expects him to re-propose that very night and whisk her away to a Justice Of The Peace to go through the vows again. Her mother forbids her from sleeping with David until they are once again married. That night, David takes her to the cozy little restaurant where he first proposed... which is now a dump... and Ann thinks he's going to pop the question. But he doesn't. When they get home he chills some champagne. Um, now he can pop the question - but how will they get to a Justice of the Peace? When David gets into his silk Pjs, Ann blows her top. He expects her to sleep together even though they are not married? She throws him out.
David is sure that Ann will come crawling back to him... but that does not happen. Instead she finds a job and begins dating again.
Then Ann hooks up with David's partner Jefferson (Gene Raymond) - a deep fried Southern Gentleman, and it looks like they're getting engaged to be married! When David objects, Ann notes that she is not his wife, and legally has never been his wife - he has no claim on her.
David realizes he may fantasize about being single again, but the reality sucks! He *must* break up Jefferson's relationship with Ann and win her back!
Experiment:
Well, it is a rom-com. By this time Hitchcock was firmly established as the Master Of Suspense - he'd become famous in England for his thrillers like THE 39 STEPS and THE LADY VANISHES... and that's why he was brought to America. But Carole Lombard was a friend, was a huge movie star, and wanted to do a film with Hitchcock... so he made a rom-com. The anecdote he told Truffaut was about his first day on the set - when he arrived there were three little cattle pens with a calf in each - wearing a name tag on its collar with the names of the stars. Lombard's joke (she and her husband Clark Gable were notorious practical jokers - and the most tragic tale in CITY OF NETS is about the joke that preceded Lombard's death in a plane crash, which devastated Gable). So - it's a rom-com.
Hitch Appearance:
When David and Jefferson come out of Ann's building together, then go in opposite directions, Hitchcock walks in front of the building.
Great Scenes:
Let's look at some rom-com things and other lessons that we can apply to any screenplay, starting with...
Story Point Of View:
A common complaint about recent rom-coms is that they seem to be about the guy - KNOCKED UP seems to focus on Seth Rogen's point of view instead of split equally between the couple. Well, it seems like that's nothing new, as the lead character in MR. & MRS. SMITH is not Carole Lombard, or even Lombard & Montgomery... it's Robert Montgomery. The film opens with Lombard in bed pretending to be asleep after a spat, and Montgomery tries to slyly get her attention with funny faces and hijinks (which come off charming rather than lame). This scene is not only told from his POV, some of the shots are his POV... and this continues throughout the film. Though I think you *can* have a rom-com where each member of the couple trades off as protagonist; it seems that in the end, one or the other is dominant (the "main protagonist"). That's what happens here...
But whether one character is the protagonist or two, each scene takes a side and shows it from that character's point of view. When Ann is waiting for David to pop the question at dinner... and then later at home... those scenes all take her side. We are not neutral in those scenes, we are given the information to understand her character and we see the scene from her side of the dispute... but not his. We know her plan is to accept when he re-proposes... but we have no idea what David's plan is. Did he plan on proposing at the little restaurant? What's his plan when he slips into his Pjs? We do not know - but we do know that her plan is *not* to sleep with him until they are married again. We have taken her side in this sequence. And there is a great reason for this - it creates drama and suspense. If we know everything, it's dull - like knowing how a movie ends. We want to *use* POV to create intrigue. Since knowing David's intentions remove the suspense from the scene, we take Ann's side and keep David's intentions secret. After she kicks David out, we take his side for most of the rest of the movie.
Do you know who is the "lead character" in each of your scenes... and why?
Visual Symbols:
A picture is worth a thousand words. After that opening scene spat has been resolved, there is a scene where Ann shaves David with a straight razor. You may wonder what the heck that is all about, but the answer is - it *shows* the trust between them with an intimate act. We can't exactly show them hitting the sheets in 1941 (and that may even be tonally wrong for 2010) but we can show them doing something together that is personal... and that also shows trust and seems domestic - you wouldn't let your best friend do this, but you might let your wife. Again, there are a million things that might show two people comfortable with each other in an intimate situation - but what can we show in 1941?
The great thing about the shaving scene is that it not only shows trust and intimacy and comfort with each other now, it is actually a set up for a later payoff near the end that shows Ann recovering her trust and comfort with David. When we see her shave his unconscious body (okay - weird), we realize that they are going to get back together. And David, who is not really unconscious, trusts her not to use the razor on him.
A visual symbol that is designed for a laugh: After being kicked out, David goes to his club which has hotel style rooms available for men who have been kicked out of the house (and maybe bachelors between apartments). There is a board with room keys on it, several empty hooks *with name cards over them* because some poor slob got into a fight with the wife and is now living there. David has to ask the clerk if there is a room available, and the clerk makes a big deal about saying that David has never asked for one of the room keys in the entire time he has been a club member. Then makes a big deal about grabbing the key and giving it to David - this is a *moment*. David and Ann never leave the apartment until they have made up... and now David has been kicked out. The key is symbolic of this being a major problem in the relationship, not just a little bump.
But the great thing is that the key becomes a running gag that gets a laugh (well, from me) every time they show it. David spends the whole day trying to win Ann back, and just when you think she may forgive him... he's back at the club getting that room key. - Eventually the board of keys has his name on a card over one key.
There are many other little visual symbols in the film - like Ann replacing the name plaque on the apartment door with a card with her maiden name - David keeps tearing it down every time he goes to the apartment and there is always a new one when he comes back. And, um, there's a pair of skis at the end that, um, seem kind of symbolic of a successful re-honeymoon.
Symbolic Supporting Characters:
The other symbolic thing are some of the supporting characters. When David checks into the room in the club, he is now one of the guys who got kicked out of the house by their wives for a variety of reasons. The character he hangs out with is Big Chuck (Jack Carson) who is constantly being kicked out by the wife, and offers David some advice on what to do to get her back if it was a minor infraction... and how to have a good time as a temporary bachelor if you end up with an extended stay at the club. In a way, Big Chuck is a married guy's fantasy of bachelorhood - he drinks and smokes and whores around and doesn't care what the wife says. He's on a "marriage vacation"... and that is kind of David's fantasy, isn't it?
Big Chuck *symbolizes* David's fantasy of being a single guy again, but still with the safety net of being married. He is an externalization of what David is thinking. You want to find the external and concrete visual way to show what's going on in a character's heart or mind - and Big Chuck is the kind of guy David wishes he was. That way, we can have David interact with his wish (instead of just having him think - which we can not see) and a great deal of comedy comes from the fantasy version being different than the reality version.
Something else that David and every other married man fantasizes about? Those hot single women out there! Big Chuck sets up a double date - setting up David with a hot single woman who will "show him a good time" (we all know what that means). But the fantasy is not the same as the reality - and David's date is a loud uneducated bottle blonde who gulps champagne as if were water and smokes like a factory. You fantasize about slutty women and that's what you get. What makes this scene great is that they are in a fancy restaurant (in contrast to the women) and guess who are a few tables over? Ann and Jefferson. So we get a direct comparison between David's wife and the single woman David hopes to score with. Um, the sure thing never looked so bad!
This is also a good example of escalation of conflict within a scene. You think once David meets his date that things can't get worse. Then the date starts ordering half the menu. Then she's so loud and obnoxious that everyone in the restaurant is starring at them. Then Ann and Jefferson spot them. And it *keeps* getting worse!
There's a great gag in this scene where David realizes that Ann is looking in his direction and moves his chair so that he seems to be sitting with the elegant woman at the next table... which works until her husband comes back. David ends up with a broken nose - which should be a good way to get the hell out of the restaurant... except his date used to date a boxer and knows all of the tricks for stopping a nose bleed. Right in the middle of the elegant restaurant. This is the date from hell! Instead of just being the bad situation, things keep happening that makes it worse and worse and worse - it's like Indiana Jones in the treasure cave in RAIDERS as a date! Just when you think it could never get any worse...
Does the conflict continue to escalate in your scenes. Once you have the bad situation, what are all of the things that make it worse?
Bellamys:
One of the standard characters in a romantic comedy is the "Bellamy", named after Ralph Bellamy from HIS GIRL FRIDAY. This is also a symbolic character - in a rom-com the couple splits up or maybe even has never been together in the first place... so how do you *show* that the love interest is *rejecting* the protagonist? At the end, how do you *show* that the love interest is *choosing* the protagonist? What you need is a romantic rival - someone who symbolizes a life for the love interest without the protagonist. Enter The Bellamy (which sounds like a really weird Kung Fu film). This is the guy or gal the love interest is either already engaged to or begins dating after the break up. A physical thing that gets in the protag's way of winning the love interest back. The strangest Bellamy ever is Otto the blow up pilot in AIRPLANE! Usually it is someone who is the opposite of the protagonist in some way.
Where David in MR. & MRS. SMITH is impulsive and passionate and his life is kind of a mess, Jefferson is conservative and well mannered and steady as a rock. Jefferson will put Ann on a pedestal and treat her like a lady - always polite and quiet and calm. He symbolizes a relationship for Ann that is quiet and safe and predictable. The opposite of David. This takes a decision that is in Ann's head: wild passion or safe predictability, and puts it on screen where we can see it. Without the Jefferson character, we could not see what she was thinking. There is actually an early scene with Ann sitting in the center of the sofa with a man at either end verbally fighting for her.
The great thing about a Bellamy character is that it not only shows us the choices the love interest makes, it also brings out the character of the protagonist (and the Bellamy). It is easier to see how wild David is when we have Jefferson to compare him with. Jefferson is the perfect Southern gentleman, always opening doors, always polite, always quiet... and that helps to highlight David's unpredictable behavior. There's an early scene at the law office where David has neglected his work and Jefferson has been covering for him. Without Jefferson, we wouldn't see how David was *supposed to be* at work. All of the wild passionate things that David does would just seem romantic without Jefferson to show us a different sort of romance that seems much more practical.
And that is the big choice Ann has to make: security or passion?
If You Know What I Mean Subtext:
David doesn't make that decision easy. He doesn't understand how he became suddenly single. Sure, he admitted to Ann that he secretly wished he were single again, but now that he's single the only thing he wants is to be married to Ann again... and she's off with some other guy... and not just any other guy, his *business partner*! So he begins a series of schemes to get her back again.
One of the more amusing schemes is some "obvious subtext" - when David discovers that Jefferson plans on *marrying* Ann, and is going to introduce her to his very conservative Southern parents, David crashes the meeting. Jefferson's parents do not know that Ann is David's ex-wife (well, they were never actually married), and think this is just some woman their son is dating. So when David butts into the meeting, Jefferson's parents introduce him to Ann... and he says they have already met...
Then begins a series of clever bits of dialogue that are designed to be misunderstood by Jefferson's parents. David says he's seen a great deal of Ann - implying that he's seen her naked, yet never actually saying that. David talks about how Ann is great at serving breakfast in bed. Line after line! Everything seems innocent, but these lines are designed to lead the other person to jump to that guilty conclusion. It's a strange sort of subtext, because we are meant to understand the hidden meaning, as are the other characters in the scene... yet nothing is said directly. Jefferson's parents eventually grab their son and take him into the next room - the bathroom, for humor - and ask what sort of woman this Ann is... and what is her relationship to his business partner?
Jefferson manages to put out that fire... which leads to a vacation with Jefferson, his parents, and Ann in a ski lodge. And David follows them, and starts more schemes, eventually placing Ann in the position where she must make a choice between these two types of men, and these two specific men... and then David does something that causes Ann to raise her legs up and cross her skis.
Sound Track:
Excellent! A great whimsical score by Edward Ward performed by human lips - whistling. The music adds to the film and never gets in the way of the film.
Though MR. & MRS. SMITH is not a typical Hitchcock film, it is a pretty good romantic comedy from that period and both Lombard and Montgomery are charming and fun. I thought this entry was going to be more painful to write than it was - I really enjoyed the movie. If you are a fan of old rom-coms, check it out.
- Bill

BUY THE DVD AT AMAZON:



HITCHCOCK: MASTERING SUSPENSE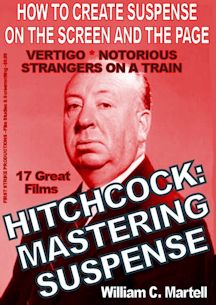 LEARN SUSPENSE FROM THE MASTER!
Alfred Hitchcock, who directed 52 movies, was known as the "Master Of Suspense"; but what exactly is suspense and how can *we* master it? How does suspense work? How can *we* create "Hitchcockian" suspense scenes in our screenplays, novels, stories and films?
This book uses seventeen of Hitchcock's films to show the difference between suspense and surprise, how to use "focus objects" to create suspense, the 20 iconic suspense scenes and situations, how plot twists work, using secrets for suspense, how to use Dread (the cousin of suspense) in horror stories, and dozens of other amazing storytelling lessons. From classics like "Strangers On A Train" and "The Birds" and "Vertigo" and "To Catch A Thief" to older films from the British period like "The 39 Steps" and "The Man Who Knew Too Much" to his hits from the silent era like "The Lodger" (about Jack The Ripper), we'll look at all of the techniques to create suspense!
Films Included: NOTORIOUS, SABOTAGE, STRANGERS ON A TRAIN, THE 39 STEPS, REBECCA, TO CATCH A THIEF, FRENZY, FOREIGN CORRESPONDENT, THE LODGER, THE BIRDS, TORN CURTAIN, SABOTEUR, VERTIGO, THE MAN WHO KNEW TOO MUCH (1934), THE MAN WHO KNEW TOO MUCH (1955), SUSPICION, and NUMBER SEVENTEEN. 17 Great Films!
Only 125,000 words!
Price: $5.99
Click here for more info!
HITCHCOCK DID IT FIRST!
We all know that Alfred Hitchcock was the Master Of Suspense, but did you know he was the most *experimental* filmmaker in history?
Contained Thrillers like "Buried"? Serial Protagonists like "Place Beyond The Pines"? Multiple Connecting Stories like "Pulp Fiction"? Same Story Multiple Times like "Run, Lola, Run"? This book focuses on 18 of Hitchcock's 53 films with wild cinema and story experiments which paved the way for modern films. Almost one hundred different experiments that you may think are recent cinema or story inventions... but some date back to Hitchcock's *silent* films! We'll examine these experiments and how they work. Great for film makers, screenwriters, film fans, producers and directors.
Films Examined: "Rear Window", "Psycho", "Family Plot", "Topaz", "Rope", "The Wrong Man", "Easy Virtue", "Lifeboat", "Bon Voyage", "Aventure Malgache", "Elstree Calling", "Dial M for Murder", "Stage Fright", "Champagne", "Spellbound", "I Confess", and "The Trouble with Harry", with glances at "Vertigo" and several others.
Professional screenwriter William C. Martell takes you into the world of The Master Of Suspense and shows you the daring experiments that changed cinema. Over 77,000 words.
Click here for more info!